Mark Zuckerberg is the Father of the giant social media platform. He is the owner and is free to do whatever he wishes to do. Do you know that Mark Zuckerberg, his wife Priscilla Chan and Sheryl Sandberg, the Chief Operating Officer cannot be blocked on Facebook? They are the only three people on Facebook who enjoy this privilege.
If you try to block Zuckerberg, Priscilla Chan or Sheryl Sandberg an error message pops up which said that the action cannot be executed. And you will not get any explanation because only their profile enjoys this exclusive right.
On this regard a Facebook spokesperson has stated: "some people trying to block profiles can see an error message if these profiles have been blocked many times in a short period of time." We cannot support this as time and again we have seen that other unpopular profiles can be easily blocked.
The popup message says "You can report Pages or profiles if you think they're doing something that goes against our Community Standards. If you think you're seeing this by mistake, please let us know."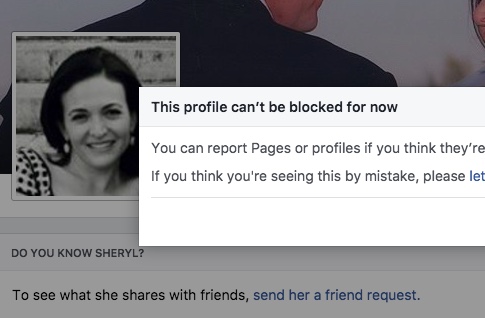 We have seen that you cannot stop receiving updates from these pages or profiles. The easiest and obvious is that you stop following them, but why we do not have the freedom to block anyone we want?
This decision by the company is because of the unilateral decisions by the social network giant Facebook Inc, the company that groups all the subsidiaries bought successively by the company founded by Zuckerberg.
Latest posts by PriceDeals (see all)