The world of computers is completely based on various data which operates the compact memory storage device that is the memory card, pen drives, and Hard drive etc.

Sometimes we store confidential documents and data in the storage device which we do not want it to get leaked, so in this case, we need to secure the data in these manageable devices.

The best way out is to protect the drive with a password so that the documents and files are kept safe. So today we will discuss as to how you can protect USB pen drive with a password. So here we go-
1. Method To Protect USB Pendrive With Password Using BitLock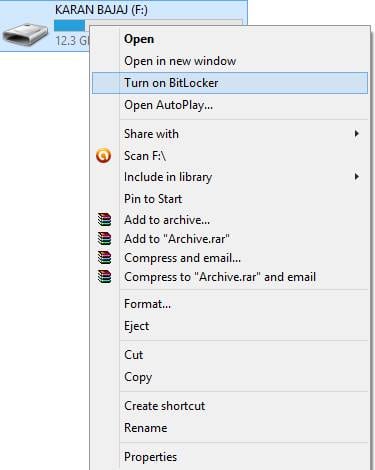 Step 1. Firstly, insert USB Pendrive into your computer. Now right click on the drive and select Turn on BitLocker.

Step 2. Next click on Use password to protect the drive. Now enter the password you want to set in both the password fields.

Step 3. Then click on next and print or save the key for future reference.

Step 4. Now encryption process will get started and your drive will get secured with the password that you have set.
2. Method To Protect USB Pendrive With Password Using Wondershare
Step 1. You need to first download and install Wondershare USB Drive Encryption from here.

Step 2. Now open the software and insert the pen drive into your computer. Now select your drive in the program and select the amount as complete to fully secure your drive. Now click on install button.

Step 3. Then enter the username and password that you want to set for your USB Pendrive.

After this, click on Ok and then you are done with protecting your USB Pendrive with username and password.

3. Method: Using DiskCrytor

DiskCryptor is an open encryption solution that offers encryption of all disk partitions, including the system partition. The fact of openness goes in sharp contrast with the current situation, where most of the software with comparable functionality is completely proprietary, which makes it unacceptable to use for protection of confidential data.

Step 1. You need to open DiskCryptor after installing and then click on the USB drive and from the interface, you need to click on "Encrypt".

Step 2. A popup window will open and will ask you to select the encryption process. Let it be what it didn't alter any change unless you have something special in your mind. Then simply click "Next".

Step 3. On the next window, you need to enter and confirm the password. Put a strong password there and then click OK to start the encryption.

Step 4. After the encryption process completes, click on the USB drive and then click on "Mount".

Some more similar software-

1. Rohos Disk Encryption

The Rohos Disk program creates hidden and protected partitions on a computer or USB flash drive and password protects/locks access to your internet applications. Rohos disk uses the NIST-approved AES encryption algorithm and 256-bit encryption key length. Encryption is automatic.
2. USB Flash Security

USB Flash Security is a security software protecting data in USB Flash Drive by a password. Add encoding function (AES256) to commercial USB Flash Drive. This is a lightweight application that is very useful.
3. StorageCrypt

StorageCrypt allows you to encrypt and password protects removable drives, including USB drive, eSATA drive, firewire drive, flash cards, PCMCIA drive and more. It uses 128 bit AES encryption for maximum security. User password length should be up to 50 characters.

4. USB Safeguard

USB safeguard secures data by creating a password-protected virtual drive on your portable storage device (USB flash drive, HDD hard drive, SSD, memory card). Once the password is set, no one will be able to access your private files without the correct password.
If you follow these process then surely you will be able to protect your private and important data. It will not let anybody who is unauthorized to use it.
Latest posts by PriceDeals (see all)